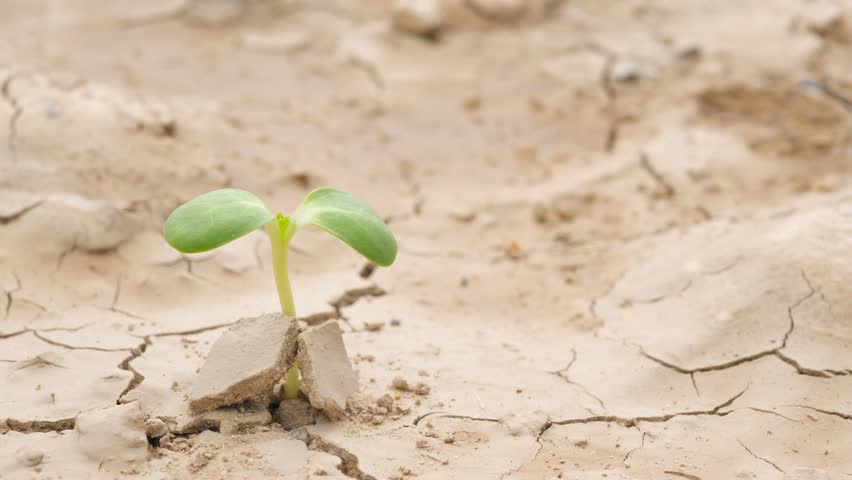 So, many of us read Ephesian 1 this morning if you are following the Foundations reading plan.
Many of us said "Good morning" and "I love you" to our family. We bowed our heads and thanked God for breakfast. We went to work or some other tasks that needed to be done and we worked…just worked. Routines were followed. We glance at the clock with no real purpose other than to know the time.
Okay…what am I getting at? I have read Ephesians 1 so many times that it would be impossible for me to know the amount. I remember times when I didn't get it. But I also remember times when I began to understand and as I did it was glorious! I was awestruck! Thankful from the heart. Pondering deeply of the riches of God's grace. But…..this morning….nothing.
I found the picture above to be helpful because it shows how difficult it is for life to spring forth from hard ground. IT'S A MIRICLE EVERYTIME! But what struck me this morning was the lack of life! My greetings were meaningless. My heart is (hopefully was) like that soil above. It needs a miracle of grace.
And that's just it…that's what grace is! It's what God does and it is who God is. He acts! He works! He provides! He gives! He causes! Not because of anything in us but simply because God delightfully decides and decided to do so. From His own blessedness He blesses us with good gifts of grace.
"who (God) has blessed us"
"He chose us"
"He predestined us"
"He freely bestowed on us"
"He lavished on us"
"He made known to us"
"In Him we have obtained an inheritance"
"In Him…you were sealed in Him with the Holy Spirit of promise, who

is given

a pledge of our inheritance"
All of this for what? "To the praise of His glorious grace!" Grace results in praise. Any other way and worship is absent. Yes, the Lord lavished grace on us and He mercifully gave more grace to me, today, to see my dull and calloused heart then to break it so that life might come forth! That's grace!
I think it's common for us to become like this. Paul writes all of these amazing things then he prays this:
18 I pray that the eyes of your heart may be enlightened, so that you will know what is the hope of His calling, what are the riches of the glory of His inheritance in the saints, 19 and what is the surpassing greatness of His power toward us who believe. These are in accordance with the working of the strength of His might 20 which He brought about in Christ, when He raised Him from the dead and seated Him at His right hand in the heavenly places, 21 far above all rule and authority and power and dominion, and every name that is named, not only in this age but also in the one to come. 22 And He put all things in subjection under His feet, and gave Him as head over all things to the church, 23 which is His body, the fullness of Him who fills all in all.

(Eph. 1:18-23)
May the Lord flood your heart with light to see these glorious truths and give Him praise for His glorious grace. May you give pause as you read Ephesians 1 AGAIN and think deeply of what God has accomplished for you. Give pause when you say "good morning" and "I love you" to your family. Give pause as you thank the Lord for what He has provided. Grab hold of His kind intentions for you in everything today.
May you "feel your need of Him" and come!